Laser Hair Removal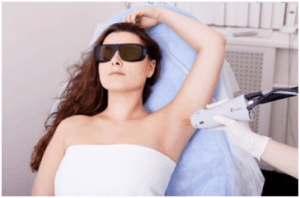 Trust GentleMax Pro to remove unwanted hair! GentleMax Pro's unmatched technology will provide ultimate results, in half the time of any other laser hair removal treatment. The Gold Standard for Laser Hair Removal in all Fitzpatrick skin types. It is a dual wavelength laser platform that combines the fastest and most powerful 755 nm Alexandrite laser with an equally powerful 1064 nm Nd:YAG laser for high performance treatment capabilities in terms of speed, efficacy, ease-of-use, performance, safety and patient satisfaction.
Some patients may feel a slight discomfort with each laser pulse. This discomfort resolves quickly and is minimized by the patented Dynamic Cooling Device.
How many treatments sessions will I need?
For hair removal, multiple treatments are required. The manufacturer suggests 6 treatments.
How do I prepare for treatment?
Hair removal patients should avoid plucking, electrolysis, or waxing six weeks prior to treatment. If you have a history of herpes simplex virus, prophylactic antiviral therapy may be prescribed. Skin should be clean shaven and thoroughly cleansed, removing any makeup, creams, oils, topical anesthetics or self tanning products before laser treatment. DO NOT expose the intended treatment area to sunlight or tanning booth light prior to or immediately after treatment.
What precautions should I take after treatment?
After your laser treatment, prevent sun exposure by applying sunblock (SPF 30 or above). In the first few days after treatment, don't scrub or rinse the treated areas with abrasive skin cleansers. Your practitioner may advise additional precautions.
Are there side effects?
Permanent side effects are rare, and may include redness, swelling, hyperpigmentation, hypopigmentation, blistering and purpura (a laser bruise) in the treated area – these usually do not last more than a few days. Be sure to discuss potential side effects with your practitioner.
How much do treatments cost?
Cost depends on the area being treated, larger areas cost more as we use pore pulses. Discuss your personal need with your laser hair removal technician to learn more or call our office for your free hair removal consultation.
Prices starting at $79 per treatment.
Intense Pulse Light (IPL)/AFT Treatments
AFT Pulsed Light Treatments for Vascular and Pigmented lesion and skin rejuvenation
A non-surgical, non-invasive cosmetic procedure, AFT technology uses gentle pulses of light to safely and effectively eliminate years of sun damage, redness, vascular blemishes and brown pigmentation, literally "Turning back the clock". This treatment works to rejuvenate the skin by enhancing dull or grey complexions as well as smoothing out uneven pigmentation reducing the appearance of large pores and even improving symptoms of Rosacea.
AFT photo rejuvenation uses a series of uniquely shaped light pulses that gently penetrate the top layers of the skin to break up any lesions or vessels. Because the treatment was developed to specifically heat the intended target spot, the surrounding areas won't experience damage.
Skin will appear even toned, healthy and youthful. There is no downtime and patients can resume daily activities immediately. After treatment skin may appear red and pigmented spots may look darker for a short time.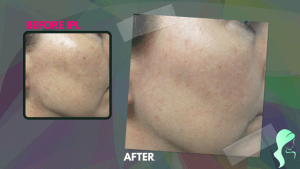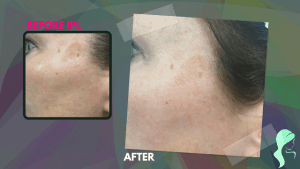 Hydrafacial

Great for all skin types, the HydraFacial MD® Treatment is not only highly effective at improving overall skin health, but also excellent for remedying:
Fine Lines and Wrinkles
Elasticity & Firmness
Skin Tone Evenness & Vibrancy
Skin Texture
Brown Spots
Oily/Congested Skin
Enlarged Pores
Advanced Signs of Aging
No downtime, instant results you can see, a facial treatment like you've never had before

The HydraFacial is a skin resurfacing procedure that uses vortex technology to rejuvenate your skin.
It cleanses, exfoliates, extracts and hydrates your skin instantly. It uses advanced medical technology to achieve instant lasting results. 

The HydraFacial is suitable for all skin types, and is ranked above IPL for skin rejuvenation.
It's a non-invasive procedure that shows immediate results without discomfort or downtime.  The HydraFacial targets specific skin concerns such as sun damage, hyperpigmentation, uneven skin tone, fine lines and wrinkles, dry and dehydrated skin, acne prone, aging skin and oily congested skin.
If you are looking to have healthy skin for life then HydraFacial is your answer. Skin health is a lifestyle that requires monthly maintenance and the right treatment. The HydraFacial is not just a quick fix procedure, but it also helps improve the quality and health of your skin and protects it from future skin damage.
Celebrities are using the HydraFacial to keep their skin looking healthier and younger!
Botox® Injections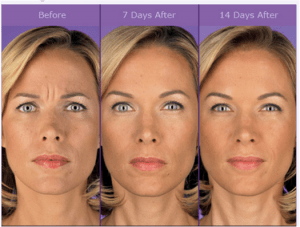 Facial expression lines are created by contractions of the underlying muscles, pulling the skin together when you smile, laugh or frown. An injectable protein, called Botox, gently relaxes these muscles that cause the overlying skin to fold and crease – wrinkles. A minute quantity of the
Botox protein is injected into the wrinkle with a tiny micro-needle.
The treatment itself generally requires less than 10 minutes. Within three to five days following the treatment, your worry, frown or laugh lines start to be reduced. The ongoing progression of the wrinkle will be prevented during the course of the treatment.
Indications of Treatment
Crow's feet
Frown / squint lines between the eyebrows
Horizontal forehead wrinkles
Eyebrow lift
Smoker lines around lips
Gummy smile
Chin lines
The Botox Procedure:
Works effectively on wrinkles of the upper face (frown, worry and crow's feet wrinkles)
• Has been performed safely and effectively on thousands of patients for over twenty years
• Health Canada & US FDA approved
• Is a simple and safe injection with a tiny micro-needle
• Requires no sedation or preparation
• Effects last two to six months
• Creates a more youthful and relaxed appearance
• Can be safely used on all skin types, male and female
• Slight bruising may occur
Before Botox
Sign the Botox procedure consent form.
No preparation is necessary, but please let the doctor know if you take aspirin, blood thinners, NSAIDs such a Ibuprofen, Advil or Motrin.
The doctor or designated fully-trained associate will clean the injection site(s).
No anesthesia is required.
The doctor or designated fully-trained associate will administer the injections, using a fine needle.
After Botox
The injected area may occasionally feel tender, although this side effect is uncommon.
There may have some mild redness at the injection sites and tiny scabs from the needle – resolves quickly (often within 10 minutes).
There may be slight temporary bruising or mild swelling at the injection sites. You can apply make-up to cover this bruising.
We ask you to use your treated muscles for one hour, to not massage the area for the remainder of the day, and to not lie down for four hours after a treatment.
Look for improvement in three to five days
If you have any concerns after a treatment, please call the clinic.
Clients can look for improvement in 3 to 5 days, completed look will be achieved in 10 to 14 days.
Refrain from strenuous activity for 24 hours following the injections.
Pending injections sites then will need to refrain from eyebrow waxing, facials, massages, laser treatments for 7-14 days following the procedure.
Dermal Fillers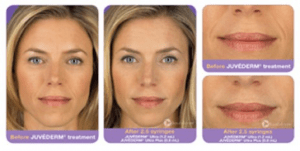 Physical beauty may only be skin deep, but how we feel about ourselves is often connected to how we feel we look. Over time, the reflection we see in the mirror doesn't always represent that feeling.
A JUVÉDERM® treatment is an easy and instant cosmetic enhancement that gives you a refreshed look. It smoothes wrinkles and restores volume – reversing the signs of aging. It can also be used to enhance facial features such as your lips and cheeks for added fullness and definition with a natural look.
More details here: juvederm.ca
Wrinkle Correction with Juvederm Volift or Ultra XC Plus
Wrinkles of the lower face are common and bothersome to many people. We frequently address these wrinkles and loss of fullness by using an injectable filler. In this type of treatment, a small needle (about the size of an eyelash) is slid up under the wrinkle or into the lip. As the needle is withdrawn, the filler is injected under the skin.
These fillers are made of a substance called Hylauronic acid. It is a lab-made substance, which is similar to human collagen. It does not come from any animal, unlike 'Collagen' brand and no skin testing is required. It lasts four to seven months for most individuals. Some individuals prefer dramatic changes; others prefer subtle changes. The beauty of this type of treatment is that it is tailored to the client's specific desires.
Diamond Skin Solutions client's before and after photos of Juvederm Fillers used to help correct smile lines. Her photos are remarkable and she looks YEARS YOUNGER!
Before a treatment:
Clients may opt to have a thin layer of freezing gel if there is no history of allergies.
Pre treat the wrinkles with a very thick application of freezing gel if there is no history of allergies. It is important to apply this freezing thickly - like a strip of toothpaste – one hour before the scheduled appointment.
If lips are to be treated, one can try using the topical freezing; however, an injected freezing may be necessary.
Bring along some cover-up makeup if desired.
During a treatment:
The freezing gel will be removed.
The needle will be placed into the wrinkle or lip and the filler injected.
Redness overlying the wrinkle will develop immediately - make up can be applied after the treatment.
Swelling overlying the treated wrinkle will develop and will persist for one to two days. If the lip border is treated, swelling will be more noticeable, and will persist for three to five days. If the pink of the lip is treated, swelling is often highly noticeable by the end of treatment, and will last for up to a full week. Cold packs may be used to reduce this swelling.
Bruising is an uncommon development, but can happen during the treatment - make up can be used immediately after the treatment.
After a treatment:
It is expected that the region will be red and swollen. Makeup may be used if desired.
Cold packs may be used to address the swelling. Do not use ice.
Handle the area gently for the first week, as it may be tender. Aggressive handling can result in swelling and displacing the filler.
It is expected that the filler will be 'feel-able' under the skin. There may be a degree of irregularity that can be felt. However, the skin should appear smooth after the swelling goes down.
If there is any 'lumpiness' to see after the swelling is gone, it can be simply and gently smoothed away with careful massage.
If any difficulties arise, please contact the clinic.

Laser Teeth Whitening | BEYOND™ WhiteSpa
A shiny, white, confident smile is the first thing people notice.
The BEYOND™ WhiteSpa Select teeth whitening system uses the most advanced and innovative technology and materials to whiten your teeth safely, quickly, and with maximum results.
Our special, gentle whitening gel contains 6% hydrogen peroxide to remove not only surface stains, but also the stains found deep inside the teeth. So your teeth get whiter faster, and stay whiter longer.
To ensure your safety and comfort, the BEYOND™ WhiteSpa Select treatment is only 20 minutes long, minimizing your risk of experiencing tooth sensitivity.
Our special, whitening accelerator lamp speeds up the entire process.

Clear Lift
The Virtually Painless Alternative to Skin Resurfacing
ClearLift™ is a non-ablative approach to laser skin resurfacing. We are able to offer patients skin resurfacing treatments that are fast and virtually painless with visible results* and no downtime – the lunch hour facial!!
The innovative technology delivers a controlled dermal wound deep beneath the skin, (up to 3mm in depth). The outer layer of the skin is left undamaged. All stages of healing and skin repair occur under the intact epidermis.
ClearLift Offers Numerous Advantages:
Fast Treatment Time – no topical numbing is required and treatments can take as little as 20 minutes.
Virtually Painless – patients report a comfortable, skin resurfacing experience.
No Downtime – after a ClearLift treatment, patients can immediately return to their daily life.
Alma Lasers introduced ClearLift to serve the thousands of patients who desired the results of skin resurfacing without the usual post treatment recovery time and pain associated with traditional skin resurfacing.
*ClearLift patients report visible improvement in their skin's appearance in as little as one treatment.
ClearLift uses what we call fractional Q-Switched 1064 nm laser energy, which has been shown in the studies to be a very nice way to rejuvenate the skin over time – usually 4-6 treatments are needed, about one month apart. Results can usually be seen after the first or second treatment, but more treatments are needed for optimal results.

Smooth Out the Lines of Time
eMatrix Sublative procedure enables you to achieve a more youthful appearance.
This technology has been shown to effectively treat mild to moderate wrinkles and texture irregularities. This is truly the next generation of safe and effective skin rejuvenation technology.
What is a Sublative procedure and how does it work?
Radio Frequency energy is directed into the skin and creates tiny perforated wounds in the skin. Healthy skin around the perforations accelerates the healing process of the skin. Post treatment, new collagen and healthy skin cells are produced, reducing the appearance of fine lines, wrinkles, stretch marks and scarring.
Is eMatrix safe?
This treatment is a safe and effective solution for most skin types.
When can I expect to see results?
Typical protocol is 4 treatments spaced 4-6 weeks apart. The total number of treatments depends on your skins condition.
Does it hurt?
During the treatment, many patients feel a warm, prickly sensation as energy enters their skin. After treatment a pink or red sunburn appearance is also common.
What was I inking?
Professional Tattoo Removal
How does laser tattoo removal work?
The laser delivers pulses at very high energy. Laser pulses are absorbed by the tattoo and causes the pigment particles to break down. These particles are sent into the hypodermis, where it is recognized as a foreign object and sent into the lymphatic system.
The healthier the immune system, the better the results. Studies have shown that those who exercise regularly and drink large amounts of water see a more positive result.
Is it safe?
The Q-Switch laser technology offers high efficiency at very low risk. It enables effective tattoo removal with little side effects.
What kind of tattoos can be treated?
Professional and amateur tattoos can be removed. The Q-Switch is especially designed to remove black, dark blue, red and orange pigments.
When accessing the removal process, what are the factors?
The Size of the tattoo
Location of the tattoo
Depth of Ink
Density of Ink
Colour of tattoo
Type of ink
Health of your immune system
How long will it take?
The removal process is very fast, ultimately determined on the size of tattoo being removed.
How many sessions will I need?
On average, it takes 8 - 12 sessions to remove a tattoo. However, this is only an average and it may be more or less, depending on the tattoo and your body.  The healthier you are, the more likely you are to get a good result in a shorter period of time.
Will it go away completely?
In many cases we can remove a tattoo 100% (though this is not guaranteed).  If, for whatever reason it cannot be 100% removed, it will fade.  At this point, you could get another tattoo placed over the faded tattoo.
Does it hurt?
Everyone has a different pain tolerance but it does hurt more than getting the original tattoo.  We can apply freezing gel before the treatment, we use a Zimmer Machine to help cool the skin during the treatment to help with the pain.
Will I see a difference after my first treatment?
It takes about two weeks for the body to absorb the ink.  Some people see differences after the first session.
Prices starting at $99 per treatment
Spa RF
Spa RF offers a technological breakthrough that uses advanced deep-heat energy for body contouring, reducing cellulite and skin tightening. It can help to flatten the stomach, slim thighs and "lovehandles" and tone upper arms. Spa RF is also safely used to tighten the skin on your face and neck.
Through a special multi-layer heat therapy process, SpaRF delivers heat to different tissue depths within the body,which helps to smooth and tighten skin, shrink cellulite and produce a slimmer, more toned physique. Spa RF maximizes patient comfort with no side effects. It is safe for all ethnicities and skin types and can be used year round. Results are visible after only a few sessions.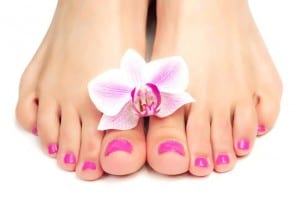 Introducing
Deluxe Pedicure
Begins with an exfoliation while you relax and unwind during an aromatic foot soak, followed by callus removal, cuticle care, nail trimming and filing and a leg and foot massage while you lay back on a heated bed. Conclude this incredible relaxing experience with a natural nail buffing or a Shellac polish of your choice.
Ultimate Indulgence Pedicure
Begins with an exfoliation while you relax and unwind during an aromatic foot soak, followed by callus removal, cuticle care, nail trimming and filing and a leg and foot massage while you lay back on a heated bed. This treatment includes a paraffin wax treatment to sooth aching joints, improve circulation and soften rough skin. Conclude this incredible relaxing experience with a natural nail buffing or a Shellac polish of your choice.